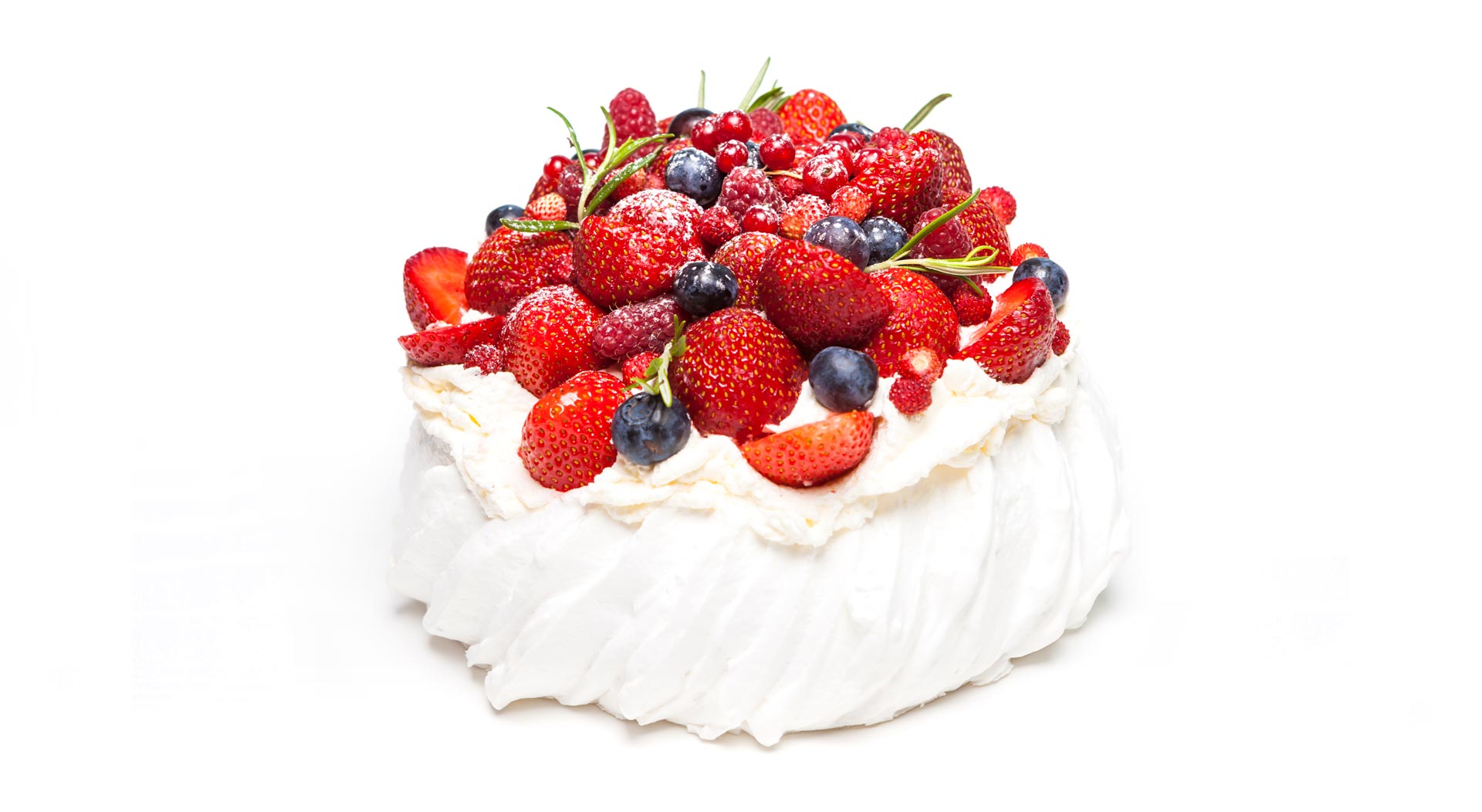 One of hundreds recipe of Pavlova
Ingredients:
4 (~ 140 gr.) large egg whites
Pinch of sea salt
¾ cup + 1 tbsp. (~190 gr.) granulated sugar
1 teaspoon white vinegar
3 teaspoons cornstarch
Filling and Topping:
1 cup heavy whipping cream
1 cup fruits for topping (strawberries, blueberries, blackberries, etc.)
Instructions:
Preheat oven to 350 F. Line a baking sheet with parchment paper. Using a cake pan trace 8″ circle with a pencil. Flip the parchment over.
In a dry and clean bowl, add the egg whites and a pinch of sea salt. Beat on low speed until small bubbles form on top of the egg whites. Increase speed to medium-high and continue beating until a soft peak forms. Then start adding the sugar a little at a time (4 additions) until the stiff peak forms. Meringue is ready when you don't feel any sugar granules when rubbing between two fingers. Add vinegar, and sifted cornstarch. Beat on low speed for few seconds to thoroughly combine the meringue.
Place small dollops from the meringue on four corners under the parchment paper. This helps paper stay in place while baking. Scrape the meringue onto the center of the circle. Spread the meringue to fill the circle. Make a little well in the middle for the filling. The cake should be about 8 cm. tall.
Optional step:
With a back of a regular spoon gently move from bottom to top to create beautiful lines.
Place the baking sheet in the middle of the oven and immediately reduce heat to 235F. Bake for about 2 hours or until crispy shell forms.
When done, turn off the oven and leave the cake in for 20 minutes. Then open the oven door slightly (ajar) and allow to cool completely, at least 2 hours or overnight.
When ready to serve, whip the cream until soft peaks shape. Spread on top of the meringue. Top with the desired fruits.